One thing I like to do with this new blog is put down some of my wacky idea's. Some of them are probably pretty stupid, but this is like a think out loud session for me. Some brain storming if you will. When I was active duty and decommissioning submarines left and right, I had the idea of using retired Poseidon Missiles for commercial launch vehicles. Just seemed like a big waste sinking all those rockets on barges for destruction. We could have saved a few of those old
41 for freedom boats
for launch platforms and the Navy could have made a little bit of money putting satellites into space. Like I said, seemed stupid at the time, but low and behold I start tracking submarine news for TheSubReport.com and the
Russians are doing just that with their old SSBN Fleet
.
So here is another one for you. The country needs more power production. And I want some late model submarine museums to visit. So they complain it takes about 10 years to build and get a reactor plant up and running for commercial power. I propose we already have them built and they are rusting in a shipyard just waiting to get cut up. Yes, I'm talking about our
retired nuclear powered submarine fleet
. They have proven to be very reliable platforms over the years so what's the problem with using them to supplement the power grid. This might be just one of those tall tale sea stories you hear. But I heard on the Ustafish that after some big storm in Hawaii, a Fast Attack pulled in and was hooked up to the power grid to help restore power on a temporary basis. Don't know if that is true. Just wonder if its possible.
And how but them MTS Nuc trainers in Charleston, that is a good example.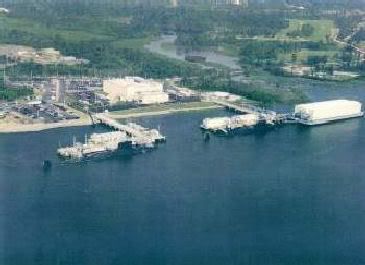 Nuclear Power Training Unit Charleston, S.C. Web Site
The home page of Nuclear Power Training Unit Charleston, SC NPTU https://www.npdc.navy.mil/nptu/
also see: Russia building floating nuclear power plant

We have plenty of prior trained Nuc's around that would be happy to run these floating power stations for us on a decent civilian salary. And we can get some former forward rates to run the Museum part of it. Win-Win situation the way I see it. So all we have to do now is petition our local power companies and the government. We get ready made clean power for the country, and a bunch of submarine museum's for us to take the kids and grandkids too and reminisce about the old Navy days. What could be better...


Concept:

Florida Power & Light Nuclear Power Plant/Submarine Museum Titusville Florida


If you look closely, you can see the
VAB (Vehicle Assembly Building) for the Space Shuttle
in the background. So we would have 2 tourist attractions for the Space Coast area and power for Central Florida. Just have to figure how to get a Sub down the Banana and Indian River, but that's just details..
Eric
TheSubReport.com